Recruitment Advertising
Are you looking for escorts for your agency, then contact me to discuss how to be listed.
---
Honeys are always looking for beautiful ladies to represent.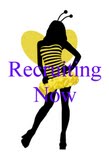 Honeys of Sheffield escort agency is a professionally managed companionship agency with your best interests at heart. We love to help gorgeous girls meet up with discerning gentlemen for all types of bookings. Being an escort is a great way to meet new people, try new things and get paid.
Honeys Of Sheffield would love to hear from you. We are looking for loyal, reliable, professional, confident and sexy young ladies to join our fabulous team.
Age : 18 or over
Size : Size 6-12
With or Without experience
Friendly, warm and reliable.
If you wish to apply, can you please email us a recent face and bikini photograph, your telephone number and some details about yourself. Our email address is info@HoneysOfSheffield.com
---
Karma Sutra Escorts
Karma Sutra Escorts have been established for a Decade now.
Due to continued success we now need to recruit new Female Escorts to join our existing team. To work mainly in the Aylesbury and South Buckinghamshire areas plus occasional visits into Oxfordshire.
If you are over 18 years old,Flexible, honest and reliable we would be interested in talking with you.
Call or Text us on 07774 035850 to find out more
---
Diamond Babes Escorts of Oxford
Diamond Babes Escorts of Oxford, have been established in the Oxfordshire a rea for more then 10 year.
Due to a large increase in demand for our services, we are looking to recruit confident, honest, smart and reliable ladies to become part of our exiting and friendly team.
To work in both the City of Oxford and across the Oxfordshire area.
We offer high earning potential, with immediate starts available. Hours can be arranged to suit your needs and lifestyle.
As long as you are over 18 years old, it doesn't matter what your age, size or ethnic group is. We would like to meet you.
Call or text 07799 654630 for more information or a friendly chat.
---
Pandora Escorts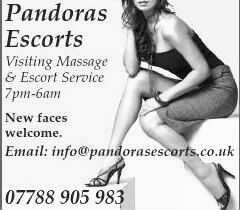 New escorts required for established outcall agency.
We cover London East, London North, London Central London West Essex & Hertfordshire.
We also cater to incalls across London
Immediate vacancies.
Call or text 07778 905983
Email: pandorasescorts@hotmail.co.uk
---
Forbidden Fruit Escorts
Forbidden Fruit Escorts are currently recruiting so if you are located in Essex or the surrounding Home Counties, have ever considered escorting and wish to join our friendly team please visit our website www.forbiddenfruitescorts.co.uk or call Lucy for an informal chat 07934308683.
Must be Female 18+
Good Earning Potential
Driver Supplied (if required)
We are having to turn work away at present simply because we don't have the girls to cover every customer that calls.
---
Temptress escorts
Temptress escorts is a new high class escort agency now recruiting in the south wales and west wales area, if you are aged between 18 and 35 pretty with agood body and outgoing personality please email us with your details at enquiries@temptress-escorts.co.uk or fill in the recruitment form on our web site.
---
Escorts110
We are looking for new female Escorts in the Manchester & Surrounding Area's.
We cover Manchester, Cheshire, Manchester Airport & Liverpool and all of the North West
Female Escorts Required & Wanted. Are you elegant, well spoken, educated & open-minded?
If you feel this is for you & are interested in joining us as a Manchester escort simply fill in the form on our website or give Jessica a call on 07809 711 547 for a chat & to arrange an interview.
Great rates! For the right ladies.
Visit web site www.escorts110.com
---
Agency CENS - Cambridgeshire, Essex, Norfolk & Suffolk
Agency CENS is renowned for having lovely ladies who are friendly, well turned out and have a great personality which fits in with the professional and friendly team at head office.
We are currently looking for new fresh faced ladies of all ages in Norfolk, Suffolk, Essex & Cambridgeshire. With the opportunity of making some great money and visiting some fantastic places you would be mad to miss this chance to join a successful team.
If you're an attractive, self-confident person looking for a career change, or even an experienced escort who wants to move to a supportive, fair and friendly agency with great earning potential, we would be happy to hear from you.
It goes without saying that all escorts representing Agency CENS must be reliable and dedicated to providing a first class service in order to keep up the reputation that we are renowned for. To join us, you must also be legally entitled to work in the UK & be over 18 years of age.
To Apply please see http://www.agencycens.com/eastangliaescortrecruitment or call us on 07890 609 364
---
UK ESCORTS - ESCORTS RECRUITMENT AGENCY
Are you female?
Over 18 years of age?
Legally permitted to work in the UK?
And want to earn in excess of £150 per hour?
If you can answer yes to these questions, we would love to hear from you. We are constantly on the lookout for escorts and adult entertainers from anywhere in the UK.
Earn more money and take a step towards financial independence!
Enjoy the freedom of being your own boss!
Choose the hours and days you work!
Choose the services you offer!
Choose your own rates!
100% FREE to join!
With 6 years experience in the UK escort industry, we have all the necessary credentials to ensure your time with us is safe, successful and rewarding.
Visit our Escorts Recruitment page and fill out an application form today - http://www.escorts-recruitment.moonfruit.com
---
Red Star Angels
Red Star Angels is a new female run, friendly Central London Escort Agency. We are currently hiring attractive, self-confident, trustworthy and reliable female escorts. Your safety and well being would be of most importance for us.
Give us a call or visit our website and fill in the employment form.
Our website: www.redstarangels.com
Tel: 07500 177 755
---
Dior
Are you.......
Interested in earning a great deal of money
Want to work your own hours
Bored of the normal 9-5 life
Outwardly social
Good looking and have a good figure
Know how to use the above :-)
Can handle yourself in any circle of people
Live in London
If the answers to the above are yes then we may have the answer for you, we are currently looking to recruit high quality escorts for our London based agency and have jobs waiting for you. We do not charge a joining fee and only take a commission when you earn though work passed on by us
Check out our website www.Diorescorts.co.uk , email us info@Diorescorts.co.uk or call us on 07504335308 . We look forward to hearing from you
---